Implementation of AGVs at Raben Logistics Poland
Introduction:
Raben Logistics Poland is one of the largest logistics companies in Poland with 30 years of experience and an extensive network of terminals. It operates in 53 locations in Poland, offering a warehouse area of 520,000 sqm. This area is served by 5,000 employees and 4,500 vehicles. The company provides contract logistics services (including warehousing, co-packing, co-manufacturing), national and international road transport, as well as air and sea transport. The Polish subsidiary is part of Raben Group based in the Netherlands.
Raben Group decided to implement autonomous guided vehicles (AGVs) to enhance efficiency and optimize processes at its logistics center located in Stryków near Łódź.
Challenge:
Before implementing AGVs, Raben Group sought a solution to streamline its internal transportation processes. The company chose to automate selected tasks using autonomous forklift technology. The selected solution needed to fulfill efficiency criteria while ensuring safety was a top priority. The dynamic and diverse working environment, with significant pedestrian and operator-operated vehicle traffic, required special attention to safety for warehouse personnel.
Solution:
Inovatica AGV proposed the implementation of AGVs to automate the process of moving and storing goods within the warehouse. Following a needs analysis and process measurement, Raben Group opted for a pre-implementation analysis, selecting Inovatica AGV as the supplier of autonomous forklifts tailored to the specific warehouse requirements. This task was executed in collaboration with WDX S.A., a partner of Inovatica AGV.
Implementation Process:
Analysis and Planning: Inovatica AGV, in collaboration with Raben Group, conducted a thorough analysis of warehouse areas suitable for automation. Routes, loading and unloading points, and parameters of AGV movement were determined.

Infrastructure Integration: Based on the scope analysis, Inovatica AGV and Raben Group adapted the warehouse infrastructure. This included marking AGV routes, sensors for occupied pallet positions, and remote safety buttons.

Programming and Testing: Autonomous vehicles were programmed for task execution, proper obstacle response, and safety compliance. Extensive testing was conducted to adjust navigation and location algorithms to the warehouse's characteristics.

Personnel Training: Warehouse staff were trained in safe interaction with autonomous vehicles and monitoring their operations.

Pilot Phase: AGVs were introduced in a pilot phase within a designated warehouse area. Performance, safety, and staff reactions to the new solution were closely monitored.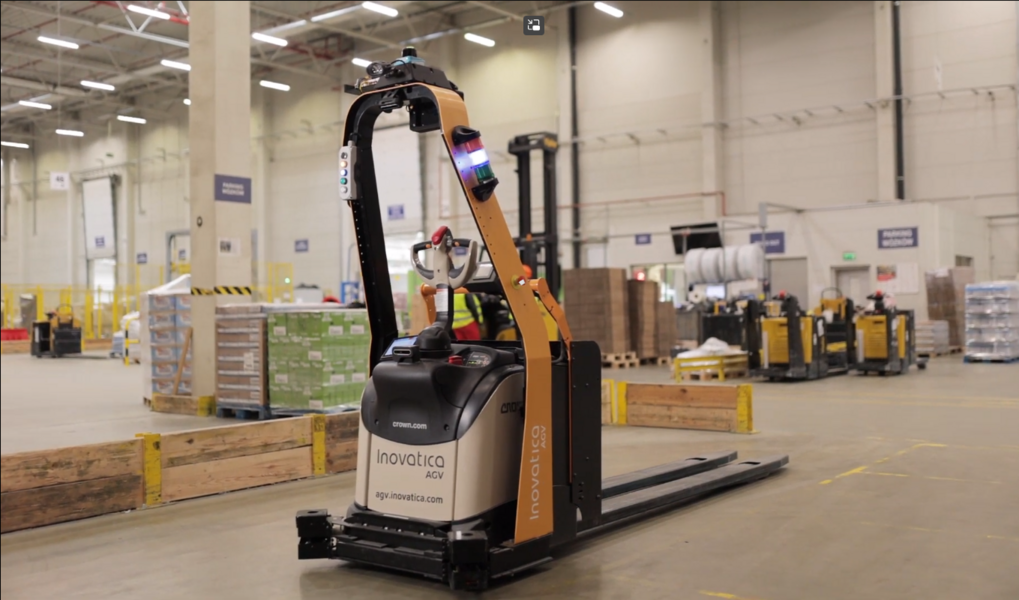 Results and Summary:
After implementing AGVs, Raben Group experienced significant benefits and decided to proceed with the implementation:
Enhanced Efficiency: The process of moving and storing goods became considerably more efficient, leading to shortened delivery times.

Improved Quality of Manual Operator Work: AGV implementation increased warehouse orderliness, including proper pallet placement, maintaining aisle clearance, timely pallet positioning for wrapping, and removal from buffer zones.

Error Reduction: Automation minimized the risk of human errors, leading to improved customer service quality.
The implementation of AGVs at Raben Logistics Poland contributed to increased efficiency, enhanced safety, and improved customer service quality. This solution proved to be a pivotal step in optimizing the warehouse and gaining a competitive edge in the logistics market.
This implementation was carried out in collaboration with our partner, WDX S.A.